Every year, Ryan contributes part of his earnings to various charities.  The largest benefactors to this date are:
---
MS Socieity – North Vancouver Island Chapter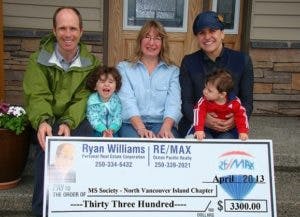 Every year, Ryan makes a donation to the MS Society of Canada – North Vancouver Island Chapter based on every transaction that he did  the year before.  This is an important charity to Ryan as his wife, Andrea, was diagnosed with the disease in 2003.  Andrea's Allies (fundraising team name) has been the top fundraiser for the Scotiabank Walk for MS for the past 7-8 years.  She has raised over $100,000 during that time. Since 2005, Ryan has donated over $18,000 to Andrea's Allies.
---
Kidsport Comox Valley
Kidsport is a national association with its main objective is to provide funds to children that may be unable to participate due to financial reasons.  Ryan is a strong believer that sports and fitness benefit children physically and mentally in life skills, education and social environments. Ryan contributes to Kidsport chapter in the Comox Valley with a yearly financial donation and he is a board member of the local chapter.  Kidsport Comox Valley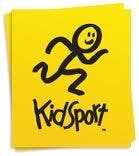 ---
Father Involvement Network (F.I.N.)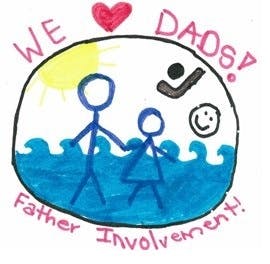 Every dad is special in his own way and it's important for dad to play a role in the life of his children. Amazing things happen to kids, to mom, to the community and to dad when men give their time, attention and focus to the children they are raising. The Father Involvement Network understands our role is to help facilitate and foster relationships and special activities with fathers and their children.  Comox Valley Father Involvement Network
---
Children's Miracle Network
The RE/MAX – Children's Miracle Network affiliation began in 1986 when RE/MAX affiliates in Calgary, Alberta and the Quebec Region started raising funds for this worthy cause. In 1992, RE/MAX International adopted the Children's Miracle Network as its official corporate charity. Raising funds for hospitalized children, to date RE/MAX professionals have collectively contributed over $56 million to the cause.In Canada, RE/MAX continues to be a strong corporate contributor to the Children's Miracle Network – $2.5 million in 2004. With funds contributed by national sponsors like RE/MAX, the affiliated hospitals are able to provide needed medical care and equipment for more than two million Canadian children every year. RE/MAX of Western Canada affiliates raise funds through community involvement such as the annual Children's Miracle Network telethon, pancake breakfasts, golf tournaments, ride-a-thons, walk-a-thons and a myriad of other events. But the cornerstone of our involvement is the Miracle Home Program whereby a portion of the sales associate's personal funds from every commission received are donated to Children's Miracle Network. 100% of their contribution helps sick children from their community. RE/MAX chose the Children's Miracle Network as its international charity because … The Mission Statement of the Children's Miracle Network, an international non-profit organization, is to "Generate funds and awareness programs for the benefit of children served by its associated hospitals". An outstanding cause! RE/MAX lists and sells homes with the very families whose children have been served, or may one day be served, by a Children's Miracle Network hospital. One out of ten children will be treated at a Children's Miracle Network hospital by the age of 18. RE/MAX stands for quality service and for caring about the communities where its Associates live and work. RE/MAX makes the world a better place to live through Premiere Community Citizenship.